---
ECAL x On 2040
Master Product Design students from ECAL/University of Art and Design Lausanne have created, in collaboration with Swiss brand On Running, shoe soles of the future.
Under the guidance of Christophe Guberan, guest designer of MA Product Design and support of Thilo Alex Brunner, head of design at On, students explored within the context of the year 2040, concept shoe soles.
The outcomes range from exploring the use of new materials and processes, to reinterpreting and re-contextualising common place aspects of todays world, all with a focus on future performance.
A select number of the designs were developed into elaborate prototypes and exhibited at On's new headquarters in Zurich in collaboration with works from other ECAL MA's photography and Type Design.
Studio project (2022) by Tsubasa Koshide, Stefan Troendle, Clemens Neureiter, Paul Rees, Lukas Lüttgen, Antoine Jacquat, Manuel Steffan
Assistants
Developed Concepts:
By Paul Rees: HOW TO CREATE THE SENSATION OF EFFORTLESS FLOATING DURING THE RUN?
Inspired by the feeling of jumping on a trampoline, this shoe sole is composed of two elements: a customisable elastic web and a hollow EVA sole. This new construction offers a new running dynamic.
1/4
By Clemens Neureiter : REIMAGINING THE CARBON-PLATE FOR RUNNING SHOES
Pushing the expression of a shoe sole to its limits, this carbon fibre rod sole plays with the elasticity and the resistance of this highly technical material to create a good cushioning and to minimise both  material usage and weight.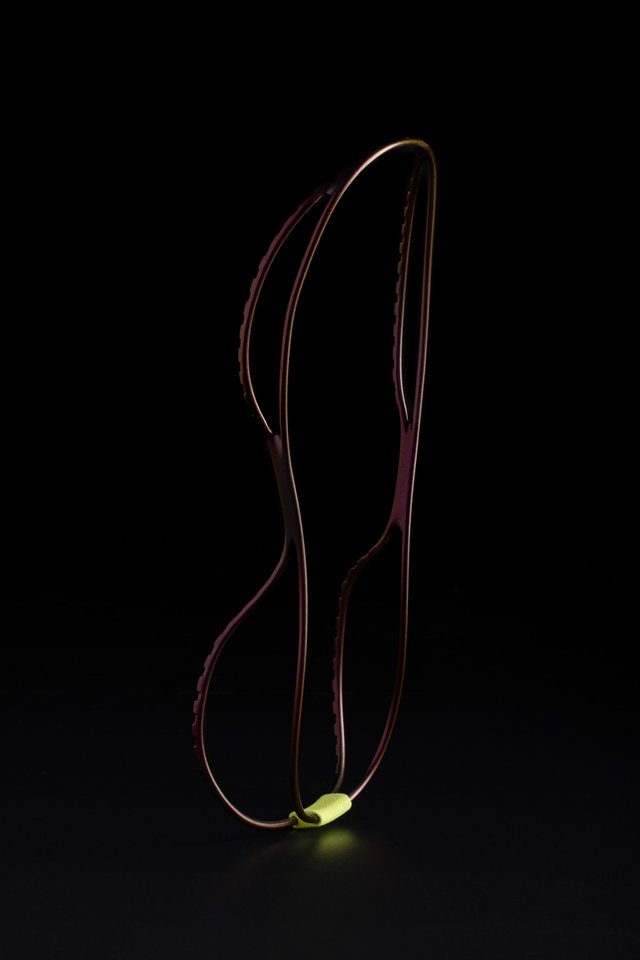 1/2
By Tsubasa Koshide: HOW TO CREATE A SHOE SOLE WITH A CUSTOMISABLE BALANCE?
Thanks to new multi-material 3D printing techniques, this shoe sole concept offers the possibility to customise material densities across the entire component. Each Shoe can therefore be precisely adapted to each runner.
1/4
By Stefan Troendle: HOW TO MAKE A WOVEN SHOE SOLE ?
Playing with new possibilities of 3D weaving, this shoe sole concept could be produced in one part allowing for both customisable cushioning and efficient production.
1/2
By  Antoine Jacquat: HOW TO PRODUCE SOLES WITHOUT MOULDS?
3D printing technologies are offering various new possibilities to the footwear industry; however, processes are often limited by slow production cycles. Instead, this concept uses a heat inflating 3D printed foam to allow for post-printing expansion, making production more efficient and feasible whilst benefiting from the free design constraint possibilities of 3D printing.
1/2
By Lukas Lüttgen: HOW TO CREATE AN ADAPTIVE SOLE?
Composed of recycled TPU, this concept shoe sole is designed to bio-mimic the fin-ray effect whilst being produced by traditional extrusion process.
1/2
By Manuel Steffan: WHAT COULD BE THE LIGHTEST, YET HIGH PERFORMING RUNNING SOLE?
This shoe sole concept utilises a 3D printed thread structure to both reduce the quantity of material required and allow for customisable sizing and compression density.
1/3
Exhibition at On Headquaters:
1/5